Impromptu Review: Solstice Heat, by Leila Brown
I found Solstice Heat as an advert on the new aRe Cafe, and I was intrigued, especially since this follows on the heels of the Romance Club discussion on how very white white white the paranormal world is in Romancelandia. I love PNR, but the limited POCs kind of detracts from the thing that I like about PNR, which is that it's our world, with a bit of magic. No POCs kind of zaps out the "this is the world we live, and you can just see out of the corner of your eye" kind of feel that a good PNR has, so I was very happy to find this book.
The book has an intriging premise: what if an Alpha male didn't heal from his injuries? Jason, the hero, is an Alpha who had to step down from his duties because of a spinal injury. He uses a wheelchair, and Gio comes into his life via a flirtation with a woman online. Gio, the heroine, is her older sister, and when she finds out about the shenanigans, confronts him about flirting with her sister.
Gio brings out his inner wolf, and he shifts for the first time since his accident, bites and claims her. There is a lot of sexy sexing, for this is a Loose-Id title. *G*
The new Alpha wants to get rid of Jason, because apparently much of the pack would still rather have him as Alpha, and they embrace Gio as a sign that he may return to his old position.  Pack politics ensue, and Gio proves herself a worthy Alpha, and helps Jason reconcile his Alpha nature with his new body.
I really enjoyed this story, and my only complaint about it is that there were a few loose threads at the end - Gio's sister is one, and a nasty pack female is another. Ms. Brown has the bones of a great longer version if she were ever so inclined - I'd love to read more about Gio's past and how it made her the Alpha that she is today. I will peruse more of Leila Brown's backlist, because I'd like to see what she does with a longer format. I give Solstice Heat a solid B, for a hot, sweet short.
*I will put this with the caveat of this is a high-sensuality title, and remark that it does not shy away from violence. Ms. Brown's werewolves are not sweet and cuddly.
—Heather
Impromptu Review: Steam & Sorcery by Cindy Spencer Pape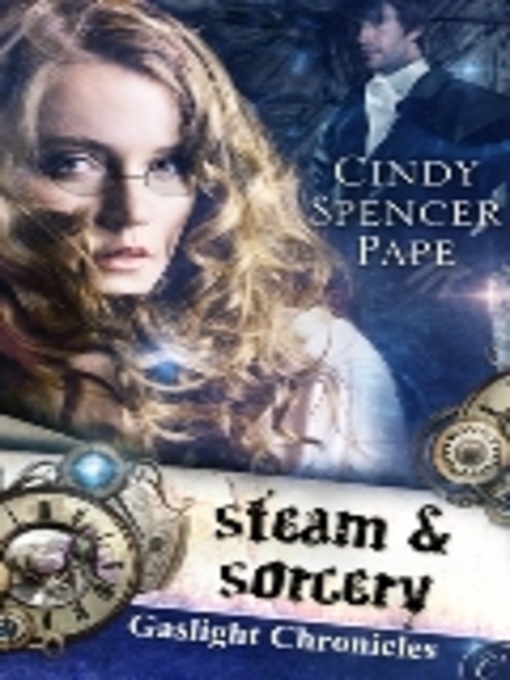 I am not gonna lie, I squealed when I got the galley from Carina Press. I discovered Cindy Spencer Pape's Motor City Series, and found her writing delightful. Her worldbuilding is immersive, her characters' chemistry sizzles and her love scenes are hot.
Now, I read lots of paranormal, historical, urban fantasy and spec fic. I have only dabbled in steampunk, and it's been mixed – some of it I loved, some left me meh. The thing that makes me meh on steampunk is when stories rely on it instead of building characters that you care about. I do not need or want to read text that fawns over the mechanics and how wonderful and marvelous they are. Your characters are living with them. C'mon, do you fawn over your smartphone? Pape does not fall into this trap. The characters treat them as part of their world, and it was a much more natural experience as a reader.
Steam & Sorcery never forgets that ultimately, it's about the characters. Merrick, who opens the novel, is investigating for the Order. He is attacked by a large group of vampyres (scary ones, yay!) and a group of street children come to his rescue.  Initially he reminded me of Mr. Darcy – he strives to remain aloof, but the plight of the children draws him in and they end up his wards. And then he is indeed of a governess.
Carolyn has a genteel background, but she has fallen on hard times, and she has had difficulties with other employers getting a little to handsy and trying to take liberties with her. For this reason, she's inclined to refuse Merrick's offer of employment, but again, the children win her over. Over the course of the book, you get to see Merrick soften, Carolyn open up despite her past, and they become a family. I don't want to get too spoilery on the plot beyond that, because the book is such a pleasure to read.
In keeping with our new ratings system, I give Steam & Sorcery an 8 – I'd fight 8 rabid wolverines to keep the book. In fact, since the galley goes back, I've got it preordered as a keeper on my Nook. I look forward to picking up the novella Photographs & Phantoms in April.
—Heather
Impromptu Review: Raine, the Lords of Satyr by Elizabeth Amber
Tonight we discuss Raine, The Lords of Satyr by Elizabeth Amber. Raine is an erotic (romance?!?), and it involves a Satyr, a girl (?) and a lot of grape juice. This review came about in discussing what's a "Do NOT WANT" in a romance.
Katie:
Just to let everyone know, these reviewers prefer their romance novels like they like their coffee.  Something that can be found in a coffee house that has at least a C rating in their last health inspection. Something found on a back alley where we aren't entirely sure the beans are actually coffee beans or properly roasted is not our cuppa.  We certainly don't expect someone to have replaced our coffee beans with black eyed peas or that it has been boiled and fermented before serving.  As you will read in this review, this might color our perception of this novel a tad.
The novel Raine by Elizabeth Ambers is one that is an example of many things coming together right but one thing going wrong can spoil it all.  The author does an excellent job painting a vivid picture for us of nineteenth century Paris and Italy.  Complete with colorful characters found in that age, the attitude as well as the presence of certain items in their daily lives.
She does an excellent job world building, painting a picture of how the blend of Magic fits into this world. Hell, the cover of a naked man with an arm strategically placed to avoid this skipping Barnes and Noble and being put into a porn shop was titillating. It's the plot that fell short,
Well… not so much short.  But more that it's GPS voice suddenly told its readers to turn off at the next tree and drive straight into the horse's anus.
The novel starts off titillating enough.  A man Raine is half man, half Saytr, son of Dionysis.  His task, as given to him by the fairy king, is to guard the entrance to the fairy world.  Oh and, by the way, the fairy king sired three babies his last visit.  So if he and his two brothers can find these half-fairy women and marry them, it would be nice.
We find out a bit of Raines' powers as Saytr.  Insatiable sexual appetite is always a plus in my magical men.
Raine, the second oldest, starts looking for his bride to be, whom he's not happy being saddled with due to his own reasons (read: last wife thought he was a freak because he grew hairy legs, cloven feet and a second penis), in Paris.
(Heather: note, that as I read this, in my head I could hear King Missile's 'Detachable Penis' in my head, even though the second is more a retractable penis. Ahem.)
So he's looking in Paris, sees an acquaintance, and follows them into a medical lecture about a natural wonder called La Maschera. The natural wonder? Turns out to be our heroine. Did I mention that each half fairy woman has a special magic all her own? Not often you get the magical woman so we were all jazzed.
Till we found out her magical ability was having a peen. Yes.  You read that right.  Our heroine is blessed with two boobs, a Vagjayjay, a dong and testes. 
Heather:
This kind of knocked me back a bit because it's not hinted at in the blurbs and promo material. I will give the author props for going there, and for giving the heroine's life some realism in how she's treated as an intersex individual in that era – that is to say, she's treated as a freak and an oddity. It is painful to read. I also liked the fact that Jordan has a gender preference and isn't afraid to state it. She's a woman because she says she's a woman, and that's a statement people need to respect, in and out of fiction.
Katie:
Jordan's intersex is one of the things the author handles extremely well.  It's not thrown in as just a plot point or a roadblock for the heroine to overcome and once done it's over. It's made an integral part of her and the plot.
It's too bad the rest of the stuff going on in the story is so damn squicky, and I don't mean the h/h nookie scenes.
Even if I (Katie) were thinking that if he has two dongs, and she has one and they cum together in orgasm, would that be a C3PO?
Heather:
Which kind of takes you out of the fantasy.
Katie: Especially since the author hides nothing in her descriptions of things.  Not the size of Jordan's penis, where… exactly, her testicles are, how much cum comes out of her penis and her lover's penis.
The author also graphically describes brutal rape scenes between men involved a Bishop infected with Syphilis and a string of prostitutes. The brutality of many of the scenes detracted from the general mood of the story for me, honestly, even though at least as it pertains to Jordan, it's appropriate.
Heather:
Can we talk for a minute about Jordan's anatomy and romance novels?  Because this affected my read. Jordan is described as having "a small penis." And then in another description, it's given at about 5 inches.
Katie:
Which as we all know is average - well average real penis size.  In romance novels, Ron Jeremy has a small dick.
HERE is where I lost it….  Jo is about to get it on and she says that the manipulation of her body at the hands of Solano was rough and unkind but STIMULATED HER.  Normally, she felt used and abused after it but when a man was contemplating shoving his whole ARM up her ass to feel her uterus… she's stimulated.
Heather:
It made my ladybits want to crawl back up into my body as far as they'd go. And the stone scene with Morpheus, oh dear gods NO. My vag has never been so dry.
Now, this book was written before Twilight blew up and at the time, erotic romance was huge, and so was pushing the envelope, which is why some of the scenes strike me as so over-the-top.
Katie:
If Author had said… "it left her feeling vulnerable and wanting to feel ALIVE and in control" it would be different. And this author will say that if E. Amber decides to write a novel that was heavier on the romance and avoided the scenes that caused my lady bits to crawl up inside and hide, I'd happily give it a shot.
Heather:
I'll let you go first.
Katie:
In conclusion, this is an example, in these authors' opinions, about what was wrong with the romance genre before the "less is more" influence of Twilight. 
Elizabeth Amber is clearly a skilled author.  This reviewer is hoping her next series will have her grow into the romance genre as it is today.
Heather:
Dear god, did we just praise Twilight for something? I think I need a drink.  Also, we need a grading scale. Stars or letters or titillated turgid masses…
Katie: 
Wolverine Scale? How many rabid wolverines we'd fight off to keep the book?
This one… we are baiting with steak and tossing it out.